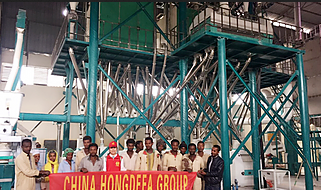 1. Does this wheat flour milling machine can get good quality wheat flour? 
Yes, it can produce good quality wheat flour.According different country ,different market demand,we give design accordingly.
This wheat flour milling machine is complete line, it has complete cleaning system with dry way or washing machine way, and the milling system design is made by China famous professor Mr.Chen, who has more than 40years experience in wheat flour milling machine design. When make the design, every small side all consider in it. Like the roller flutes depth, quantity etc.
The flour can used for Pasta,Macaroni,Biscuit,Cake,Bread etc.
2. Which kind of roller mill does this machine use?
We use Pneumatic roller mill, with 6-section plansifter.
3. Which kind of electronics use?
Schneider electronics
4. Which kind of control system use?
In this wheat flour milling machine control system, one kind is Control panel control;another kind is Smart Touch screen control system
Also have the PLC control, The control system different, and the price is also different.